Marvel Heroes Thanos Earth-18138 6-Inch Pop!
Just when I thought that I had acquired every single Thanos "Funko Pop!" on the planet, they go and release this menace! Even though he's not sporting his trademark infinity gauntlet, I knew I had to add this one to my collection.
To be honest, I didn't know the back story on "Punisher Thanos" and had to look it up. Below is the information provided by Funko about this Pop!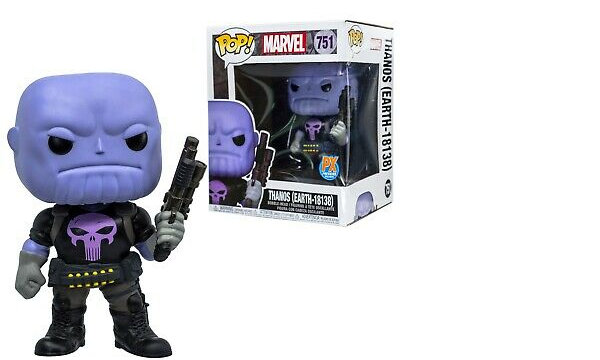 From the pages of Cosmic Ghost Rider by Donny Cates and Dylan Burnett, The Rider, Frank Castle, travels back in time and kidnaps Thanos as a baby in attempt to raise him for good. Growing up by the Rider's side on Earth, his father's sense of justice becomes ingrained in him
This Previews Exclusive features Thanos in his Punisher getup, complete with a gun from his arsenal, and comes packaged in a window box.