The first monster truck, Bigfoot, started out as a family Ford F-250 pickup which was modified until the tires reached 66 inches, as well as adding heavy duty suspension and four-wheel steering.
Often seen crushing regular cars under its weight, this humungous truck provide a thrilling source of entertainment that was loved across the US and beyond.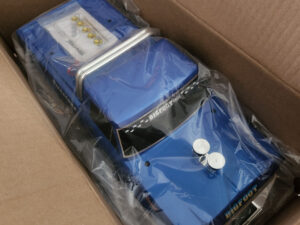 I was thrilled to see that Traxxas brought this classic to their lineup a few years ago, but I just couldn't see spending the money on yet another Traxxas Stampede with a fancy shell. Well after patiently waiting for years, and searching eBay for just the right price, I finally purchased the shell and built this roller using 90% parts I already had. I even found an incredible price on a LED light set that is only found on the most recently released version.
It's just a roller now, no motor, computer(ESC) or controller… but let's be honest here, I'm sure this thing will be 100% up and running before you know it. 🙂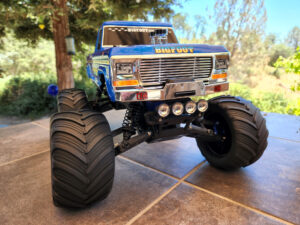 I'll be perusing eBay for the remaining parts needed for the beast and digging through what's left of my parts in the hopes of finding anything else I can use for the build.
Hopefully soon this thing will be fully functional.